In the United States, cancer is one of the leading causes of death every year. According to the American Cancer Society, around 1.8 million new cancer cases were diagnosed in 2020, with approximately 606,520 cancer deaths taking place.
What is Cancer?
Cancer is a condition in which some cells grow abnormally, divide quickly, and spread to other parts of the body. Cancer can begin practically anywhere in the trillions of cells that make up the human body. According to the National Cancer Institute, there are over 100 malignancies that originate from various cell types, and these malignancies are found in different body organs. Research is still being done to help comprehend and treat these varied conditions.
Cancer treatment and medications have evolved, as time and technology have progressed. In recent years, we've seen various approaches that work to enable healing. One such approach today is personalized cancer treatment. Let us delve deeper into its details:
What is personalized cancer treatment?
Cancer may have a variety of inherited causes. Over the last decade, it has been increasingly obvious that no two individuals' cancers are precisely the same, and even generic therapies like chemotherapy and radiation may have varying outcomes. Cancer's inherent diversity has led to more people opting for PPM (Precision and Personalized Medicines), and this trend is steadily increasing.
PPM ensures that your medical treatment is tailored to your genetics and specific condition. Genes are the instructions that tell your body's cells how to improve and evolve. Many cancers are linked to or affected by individual genes. Personalized Medicine studies how a certain gene mutation may influence a person's risk of developing cancer. It can also reveal how their genes may influence cancer treatment if they already have the disease.
Genetic tests are used to assist doctors in creating a treatment plan, which usually includes very specific recommendations.
How does personalized cancer treatment work?
Personalized cancer treatment is now being used to determine which tests and treatments are best for certain malignancies. With the use of personalized cancer treatment, a doctor will be able to help patients in the following ways:
Determine who is at a heightened risk of cancer
Detect certain malignancies early
Accurate examination of a particular form of cancer
Selection of the most suitable treatment choices
The assessment of the effectiveness of a treatment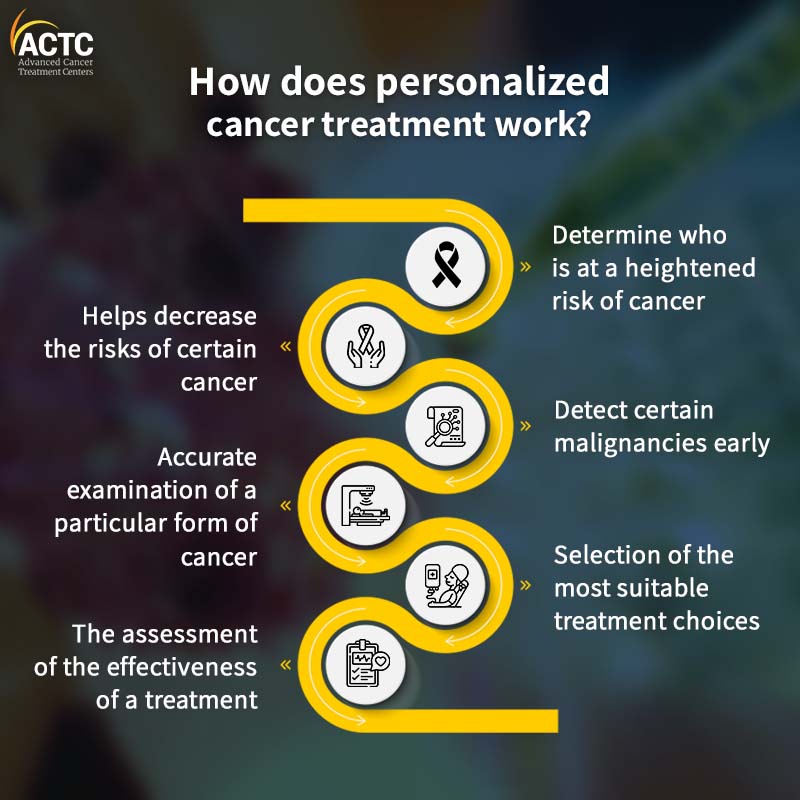 Types Of Cancer Where Personalized Cancer Treatment Is Used:
It's essential to recognize that precision medicine isn't used for every malignancy. However, it is hoped that one day, medicines will be tailored to each person's gene mutations in cancer. Many studies are being conducted for this.
The following are amongst the most common malignancies for which personalized cancer treatment is being used:
Colorectal cancer
Breast cancer
Lung cancer
Certain types of leukemia
Certain types of lymphoma
Melanoma
Esophageal cancer
Stomach cancer
Ovarian cancer
Thyroid cancer
Limitations of Personalized Cancer Treatment
Many medical trials enlist patients with certain cancer types at different stages. To participate in a personalized medicine clinical study, a person must have a specific genetic mutation that the medication can address. Drug trials in personalized medicine are generally only available at larger cancer centers.
When does personalized cancer treatment not work?
This can happen when the patient's family history of cancer may not be properly known. In some cases, genetic testing may not be performed, and the results may not be accurate.
Even if a person is diagnosed with cancer for which there are gene tests, the tumor may not be analyzed in some situations. This makes it difficult to determine if a gene mutation affects therapy options.
The expense of gene research and the tests & treatments advised may be a source of concern.
The precision and personalized medicines treatment approach has expanded and matured a lot in recent years. This data has been linked to individual case results and research responses that have moved beyond exact sequencing.
Studies suggest that the personalized technique has surpassed the usual approach by 30.6 percent versus 4.9 percent in cancer patients. These figures show that the reaction of patients significantly improves when they receive customized treatments for their specific condition. Overall, PPM's premise is intriguing and encouraging, and it has the potential to revolutionize cancer treatment.
Infographic