The vast majority of our population who live in highly polluted cities know the importance of clean air. Pollution from numerous sources such as factories, vehicles, machinery, etc. exists in today's cities and metropolitan areas.
We've all said at some point, "I need to get some fresh air." So much so that many people leave the city for a place with cleaner air, such as the countryside, the mountains, or the beach.
According to the World Health Organization (WHO), over seven million people die each year as a result of small particles in contaminated air that enter deep into the lungs and cardiovascular system, causing multiple diseases including lung cancer.
It's no surprise then that air pollution has been associated with lung cancer. However, according to the American Association of Cancer Research, a new study reveals that pollution is linked to an increased risk of death from a variety of other cancers, including breast, liver, and pancreatic cancer.
How Can Polluted Air Cause Cancer?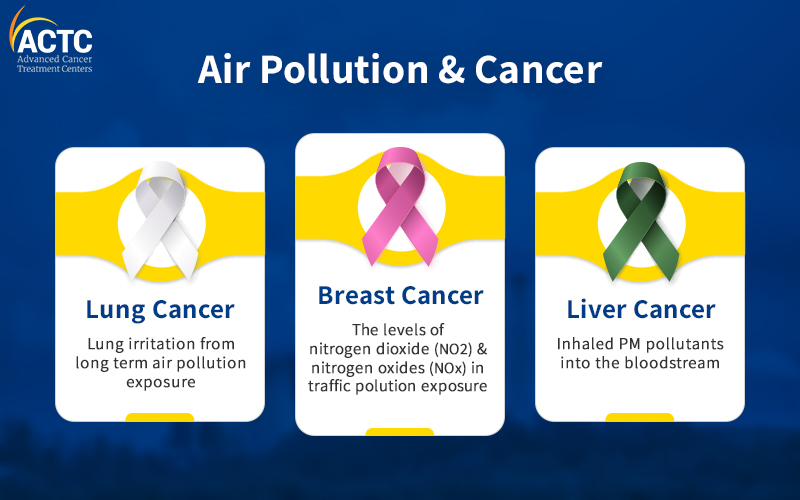 According to the American Cancer Society, the majority of the world's population now lives in areas where air pollution levels exceed the World Health Organization's (WHO) health-based air-quality guidelines due to pollution from major sources such as industry, power generation, transportation, and domestic burning.
Air pollution can irritate your lungs, resulting in shortness of breath, coughing, wheezing, asthma attacks, and chest pain. Lung cancer, heart attacks, strokes, and, in the worst-case scenario, premature death are all risks associated with long-term air pollution exposure.
The National Institutes of Health (NIH) has identified seventeen studies that look at the link between air pollution and breast cancer risk. The levels of nitrogen dioxide (NO2) and nitrogen oxides (NOx), both of which are proxies for traffic exposure, have been linked to an increased risk of breast cancer. The risk, however, may vary depending on factors such as menopausal status at the time of diagnosis or the combined tumor hormone receptor subtype characterized by the estrogen receptor (ER) and progesterone receptor (PR).
Apart from this, several studies on animals show that Particle Matter (PM) or Carbon Black (CB) - which are both indices of air pollution, can cause a variety of diseases and exacerbate existing diseases in organs that are exposed to air pollution elements.
Because its microvasculature gives easy access to the liver, and inhaled PM pollutants can be translocated from the alveolar space into the bloodstream, the liver is one of the most vulnerable organs.
Preventive measures: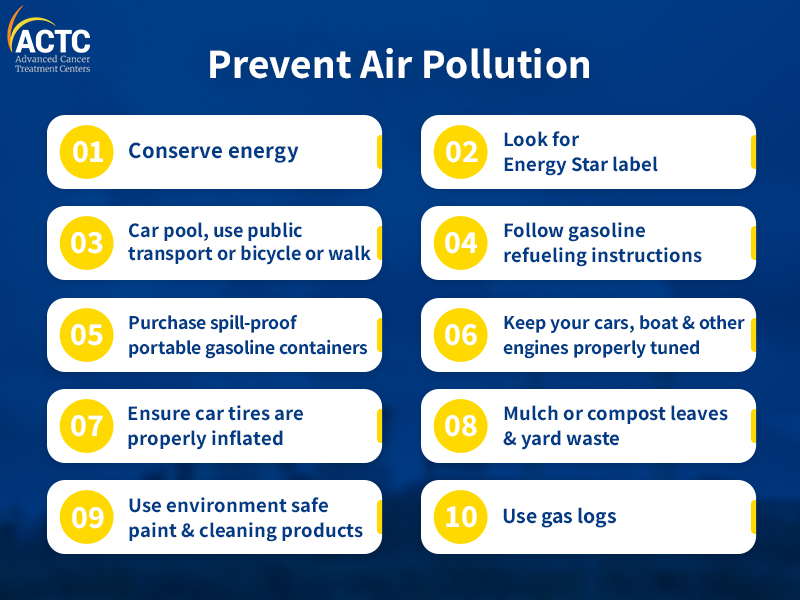 Most of the sources of outdoor air pollution in cities are outside of anyone's control. Therefore, individuals, cities as well as national and international leaders must take the initiative to encourage cleaner transportation and more efficient energy generation and waste management.
We can all help to reduce air pollution levels by avoiding additional pollution. Among the available and inexpensive strategies are - reducing industrial smokestack emissions, boosting the use of renewable energy sources such as solar and wind, and promoting walking, and cycling networks in cities.
Other measures that can be taken by individuals include the following :
Conserve energy - at home, at work, everywhere.
Look for the ENERGY STAR label when buying home or office equipment.
Carpool, use public transportation, bike, or walk whenever possible.
Follow gasoline refueling instructions for efficient vapor recovery; be careful not to spill fuel, and always tighten your gas cap securely.
Consider purchasing portable gasoline containers labeled "spill-proof," where available.
Keep your car, boat, and other engines properly tuned.
Be sure your tires are properly inflated.
Use environmentally safe paints and cleaning products whenever possible.
Mulch or compost leaves and yard waste.
Consider using gas logs instead of wood.
While the measures described above are simple but extremely effective, worldwide awareness of the harmful impacts of air pollution must grow. The government and leaders must play a bigger role in promoting such policies. This problem is not limited to the United States; it concerns people all over the world.
A cancer diagnosis affects everyone differently. It's always better to be well informed in case you or your loved ones are diagnosed.
If you are in or around Florida and are searching for an advanced cancer treatment center near you - ACTC is here for you. Our patients are our top priority. Our team includes some of the most renowned cancer specialists in Florida. We have some of the best medical oncologists, radiation oncologists, and hematologists working with us. You can learn more about ACTC by going to our website here. Call us on +1 352-345-4565 for an appointment.
Infographic: