The female reproductive system consists of two ovaries. They are in the size and shape of an almond and are situated on each side of the uterus. Ovaries produce eggs known as ova every month as a part of their fertility cycle. Eggs travel from ovaries through fallopian tubes into the uterus where the fertilized egg develops into an embryo. Ovaries are also responsible for secreting female hormones namely estrogen and progesterone.
A woman's reproductive system needs more attention specifically when it comes to the ovaries. An increase in awareness is essential with regard to ovarian health, as most symptoms of ovarian carcinoma can be overlooked or misinterpreted to be a different disease. It is important to know about ovarian carcinoma, so you may be able to watch out for possible symptoms and to be able to take action if required.
What exactly is ovarian carcinoma?
Ovarian carcinoma originates in the ovaries or in nearby areas of the fallopian tubes and the peritoneum. The formation of abnormal cells that multiply at a quicker than usual rate gives rise to tumors in the ovaries. If not caught in time, these tumors can spread to other areas of the body.
Due to a lack of awareness of ovarian carcinoma, women in the past were unaware of what symptoms to look out for. Now with decades of research, there are physical signs that can draw your attention. Paying attention to these symptoms can save your life if you consider them warning signals and report them to your healthcare provider early on.
Many women face problems such as fatigue, indigestion, constipation, and menstrual irregularities at one time or another. They are not typical symptoms of ovarian cancer but may occur for a number of other reasons. These problems could be temporary and may even respond to simple treatments in most cases. If these symptoms persist, they may be related to ovarian cancer. As the tumor grows, these symptoms will become more intense.
Make sure you watch out for these symptoms so you can get the treatment before it's too late. After all, it is better to be safe than sorry. Remember, ovarian carcinoma can be successfully treated if detected early.
Initial symptoms that indicate ovarian carcinoma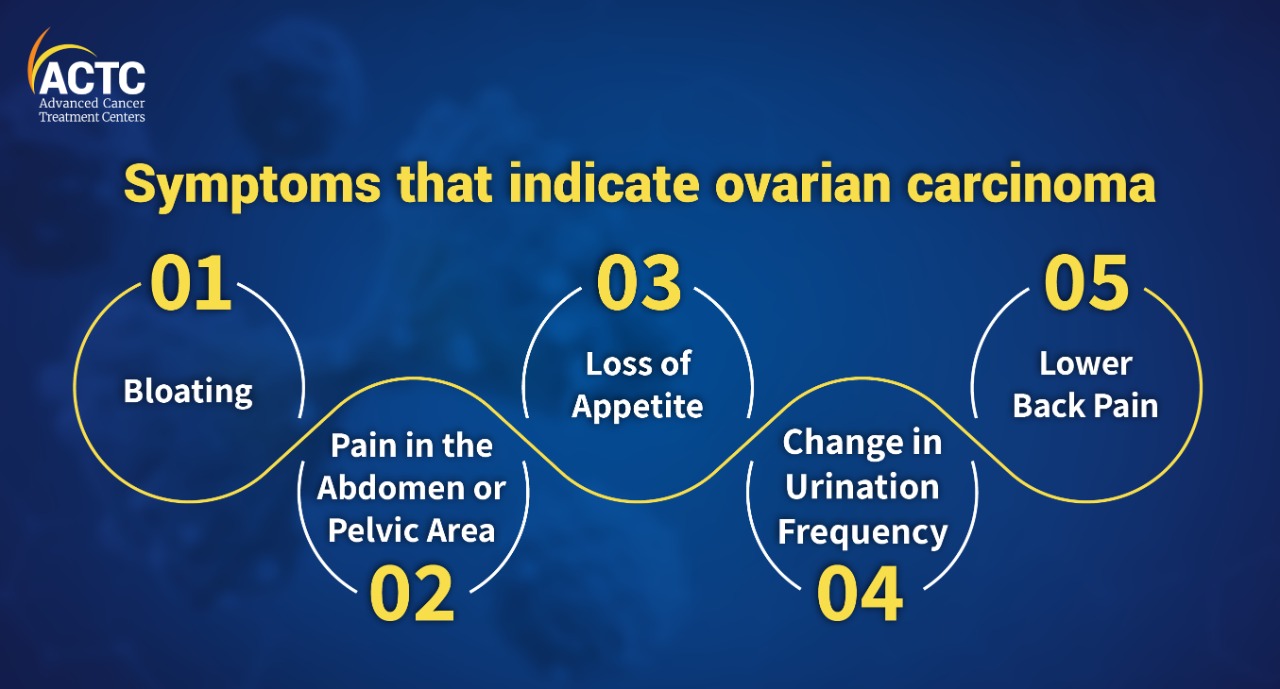 Check out the symptoms that can indicate the possibility of ovarian carcinoma.
Bloating
Bloating is often caused by the build-up of fluid or gas in your abdomen. It happens because of changes in abdominal blood supply and your body's potential to drain fluids. It can also happen when the contents of your stomach move too slowly through the digestive system or even because of periods. If bloating persists for a long time and does not ease up, this fluid buildup becomes a concern.
Pain in the Abdomen or Pelvic Area
It is better to discuss even the slightest abdominal pain or discomfort in the pelvic area with your healthcare provider. The diagnosis can vary from person to person depending on the pain they feel. Sometimes, it can feel like intense pressure - as if you are being gripped from within. As the tumor becomes larger in your ovaries it can also put pressure on other body parts like the bowels, rectum, bladder, and spine.
Loss of Appetite
Having a feeling of fullness during meal consumption. Experiencing indigestion, nausea or vomiting after you eat. The inability to finish portions of food causes unintended weight loss.
Change in Urination Frequency
Ovarian carcinoma can cause a frequent urge to urinate. It can also cause a burning sensation during urination, and leave a feeling that your bladder is full even after urinating.
Lower Back Pain
One of the common symptoms that women can suffer from is intense back pain. If a tumor spreads to the abdomen or pelvis, it can irritate the muscles and tissues of your lower back which can cause back pain.
Why is early detection so important?
The chances of recovering completely from ovarian carcinoma are high if it is caught early. By the time ovarian carcinoma is detected by your healthcare provider, it might have already spread to other organs. However, a timely check-up and early diagnosis can make the difference.
Lifestyle changes
Ovarian carcinoma does not have to be deadly. You can decrease your risk of getting this cancer later in life by maintaining a healthy weight and practicing some good lifestyle habits such as:
Eating plenty of vegetables rich in fiber
Doing physical activity of at least 150 minutes a week
Maintaining sufficient levels of Vitamin D
Limit alcohol or tobacco intake
Treatment recommendations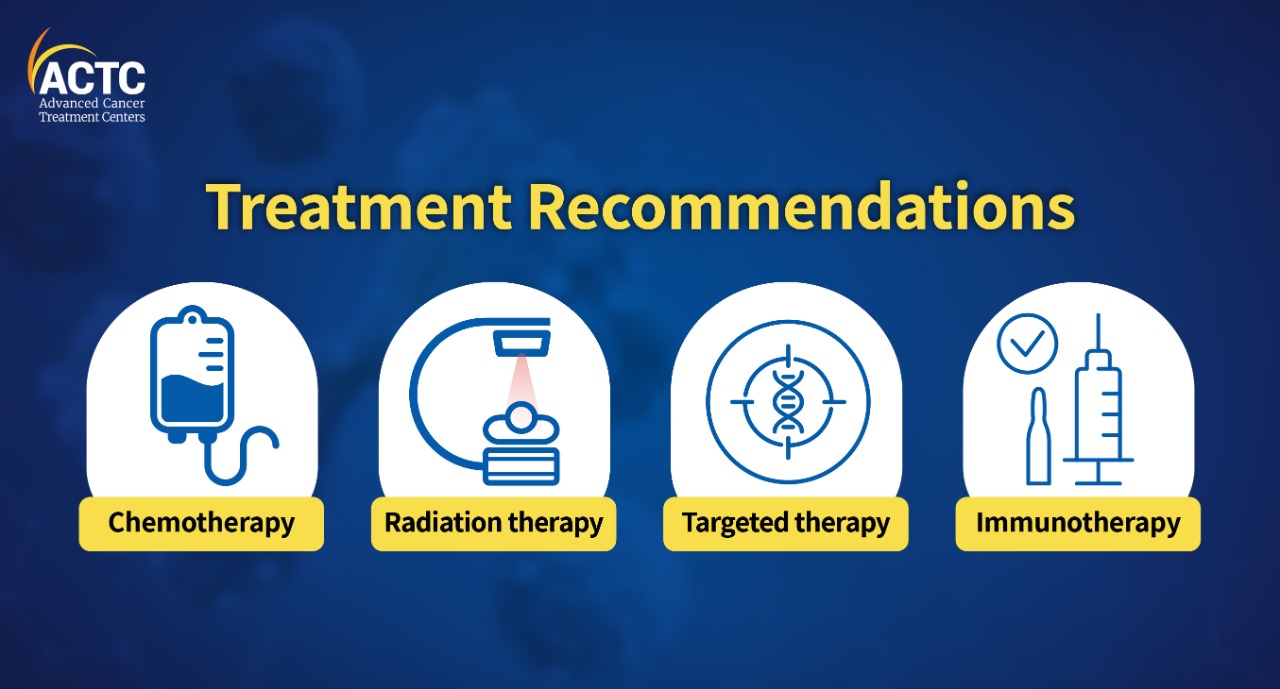 Talk to your healthcare provider if you find any of the above-mentioned symptoms. When your healthcare provider diagnoses you completely, they can prepare a treatment plan according to your health factors. Trained medical oncologists can help you to consider various treatments to defeat your cancer. If you reside somewhere in the United States or in Florida then you can find medical oncologists nearby who will provide expert medical advice and treatment. Some of the key therapies apart from cancer removal surgeries are mentioned below:
Chemotherapy
In chemotherapy, drugs are used to kill cancer cells by preventing them from growing, dividing, and producing new ones.
Radiation therapy
Radiation therapy uses high-energy beams with intense energy to destroy the genetic material that controls how cells grow and divide. Make sure you share concerns and queries with your radiation therapist beforehand.
Targeted therapy
Effective targeted therapy can alter the conditions which enable cancer to grow and survive. It targets cells related to cancer growth, such as blood vessel cells.
Immunotherapy
Immunotherapy is a common and preferred treatment protocol that boosts or changes how a person's immune system works to find and attack cancer cells.
If you want to help a loved one who has been diagnosed with ovarian carcinoma, merely searching for 'medical oncologists near me' on the web is not enough.
As a caregiver or even as a patient, it is important to talk to your consulting physician and family while seeking help and advice on the best course of treatment. At ACTC, we offer evidence-based and personalized cancer care. Our team includes some of the best radiation therapists, hematologists, medical oncologists, and radiation oncologists of Florida.
Consider ACTC if you or a loved one is diagnosed with cancer and seeking the top cancer centers in Florida. To schedule an appointment, please call 352-345-4565.
Infographic: