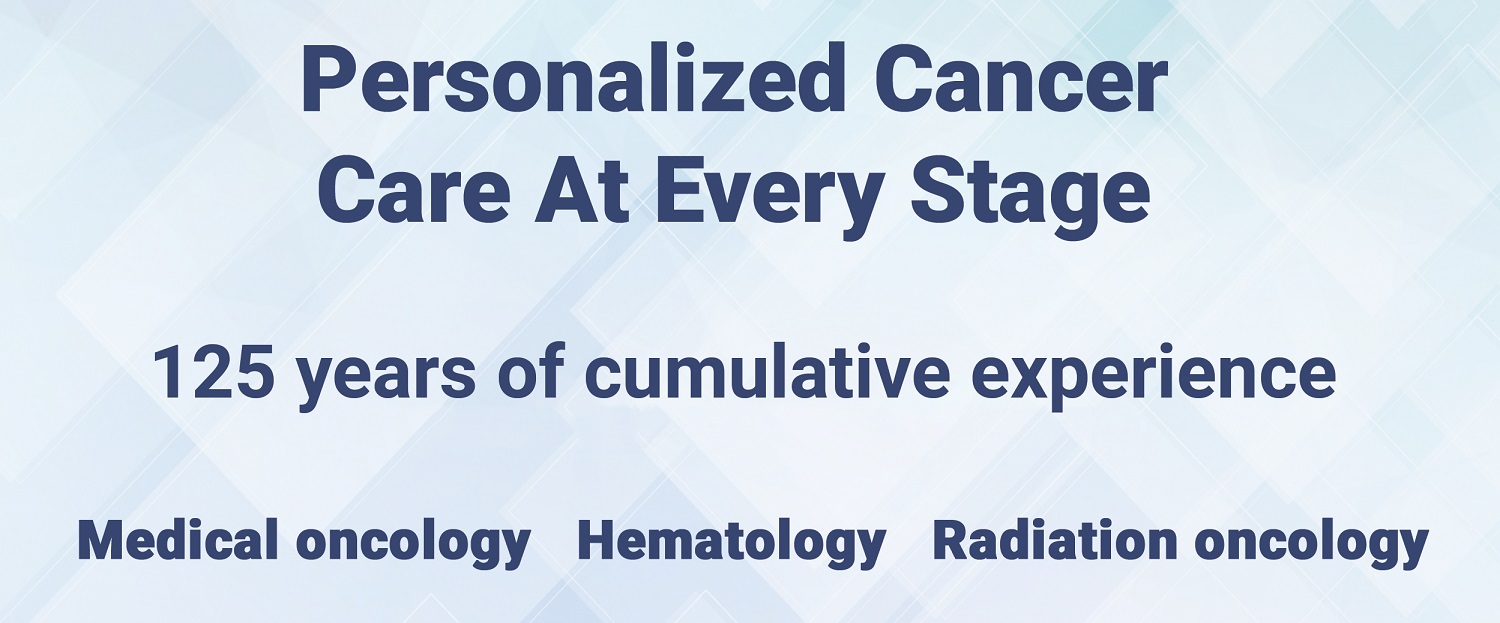 The Advanced Cancer Treatment Center of Access Health Care
Advanced Cancer Treatment Center is the oncology and hematology arm of Access Health Care. The clinical team is led by Richard Caradonna, MD, V. Rao Emandi, MD, FACRO (Fellow of the American College of Radiation Oncologists), Fadi Nakhl, MD, and Oleg Gligich, MD. They are joined by Elizabeth Morgan, ARNP, AOCN (Advanced Oncology Certified Nurse). This team represents 125 years of cumulative experience in various aspects of oncology.

These four physicians and Ms. Morgan are backed by a clinical staff that have worked together for well over two decades and have earned a reputation for providing individualized attention. They provide more than just leading-edge technology, but also evidence-based care that is tailored to each individual's needs. After all, how you feel about your care goes a long way in assisting your own battle against cancer.

Both offices have reputations for maintaining appointment times. After all, waiting is never received well. "Waiting is never well received," says Dr. Caradonna. "When someone learns that they have cancer waiting should not be an option. After all, I can still see one more patient and we can begin treatment right away," he added.

Advanced Cancer Treatment Center (ACTC) is regarded as a leader in individualized care. Every member of the team chooses to make the patient feel special, providing undivided attention to their needs. Everyone is known for developing a deep bond with their patients and assisting them in every aspect of their healthcare. As Dr. Caradonna has said, "This is a labor of love for us to take care of every little detail and to keep our patients happy." When you talk to their patients you learn that there is more behind the scenes than people realize. The physicians are very proud of their staff because they feel every single responsibility is critical in a patient's care.

ACTC treats patients at their locations, which helps avoid exposing patients to other illnesses. Patients are treated close to home so they can return to their families and their daily activities. Eighty-five percent of patients who need oncology care can receive it close to home without having to travel to large facilities. At Advanced Cancer Treatment Center every resource the physicians need is at their fingertips. As Dr. Gligich says, "It is state-of-the-art treatment right in your backyard." Access Health Care Physicians is proud to have such a group with this vast experience and knowledge as part of the Access family.

Care is provided at two locations. Medical oncology and hematology is provided on the campus of Oak Hill Hospital at 11373 Cortez Boulevard, Suite 200, Brooksville, FL 34613. Call 352-597-4998 to Request An Appointment.

Radiation oncology treatment is provided just west of the Suncoast Parkway at 14535 Cortez Boulevard, Brooksville, FL 34613. Call 352-596-3622 to Request An Appointment.